Ramon T's 2000 Impreza 2.5RSTI
Car Show Entry (Best Impreza 93-01)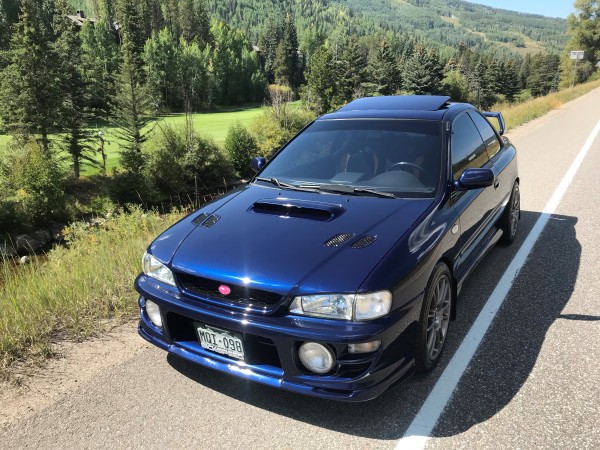 Car Description:
2000 RSTI Swap clean title
Body: 2.5 RS Coupe, JDM clear package all the way around. JDM front grill and pink 6 stars emblem. JDM aluminum hood. JDM front and rear bumper support. JDM rear bumper and spats. V4 rear spoiler replica. Iwire splitter design, JDM GC8 engine crossmember, and harness merged by iwire. Fresh coat of paint a year ago (Ridge blue original).
Interior: GC8 UK v5 seats and 2004 USDM STi cluster, sti floormats, 2004 jdm sti Lamco gauge pod, pioneer double din gps dvd/cd Bluetooth,gc8 momo steering wheel and oem sti shifter knob.
Engine: 2005 USDM STi 50,000 on the engine and stock internals done by Subaru. V48 new turbo, top mount intercooler, SPT turbo heatshield, and turbo thermal blanket. COBB short-ram intake and heat shield.COBB downpipe, COBB catback exhaust, COBB boost controller, and Grimmspeed up-pipe. Walbro 255 fuel pump, V2 accessport,odyssey pc680 battery and PRO-tune done by Dave in Cryotune Performance.
Transmission: 2004 USDM STi 68,000 miles stock internals.Driveshaft, rear differential and axles. Exedy clutch kit, DCCCD PRO controller, and Kartboy short throw shifter.
Suspension: KYBAGX struts, Eiback Pro-Kit spring kit. Cusco front and rear strut bar. Cusco GC8 H-Brace, Group N engine, transmission, and pitch mount. JDM GC8 spherical rear lateral link control arm. GC8 front and rear Cusco sway bar. Whiteline rack and pinion and sway bar bushings.
Cooling System: STI OEM water pump and thermostat and 2004 Forester XT radiator and fans.
Brakes: OEM Brembo Calipers, Stoptech slotted disk brakes and street brake pads.
Wheels: JDM Final Speed Gear-R 17" alloy wheels
Tires: Continental Extreme Contact Sport 225/45/17
Ramon's Social Media Info:
-
http://www.instagram.com/RamonRTC19
« Browse More Enthusiasts