Steffen V's 2007 Outback 2.5 XT Limited
Car Show Entry (Best Legacy & Outback 00-present)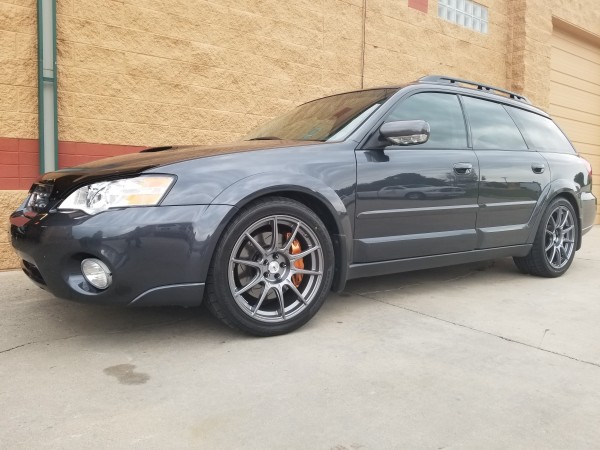 Car Description:
Custom NVS rotated turbo kit.
3in Custom NVS down pipe and cat back to Stromung Y pipe and Quad tip mufflers
Garrett GTX3076R W/ Tial .63AR Hot side, 4in Anti Surge inlet
4in custom NVS intake with K&N air filter
Custom NVS up pipe
Perrin 3.5in front mount intercooler
PTP Turbo blanket and titanium heat wrapped up and down pipes
Stock exhaust manifold
44mm Tial external waste gate plummed back to exhaust.
EJ257 case halves
Cosworth Stock bore pistons 9.5:1
Manley rods
King rod and main bearings
Killer Bee oil pickup tube and oil baffle
11mm high flow STI oil pump
Stock 2007 OBXT cylinder heads and camshafts
Supertech Sodium Filled Inconel exhaust valves (stock size)
Supertech stainless intake valves (stock size)
Supertech Titanium dual valve springs, seats, and retainers.
Cometic .040mm thickness head gaskets
ARP 625+ headstuds
ACT Heavy duty pressure plate with sprung full face clutch disk
ACT pilot and throw out bearings
Kartboy pitch stop mount
STI rotated intake manifold
Grimmspeed 3 port EBCS
Stock Map sensor
JDM TGV deletes
Tial vent to atmosphere BOV
IAG Competition AOS
DW300 Fuel pump Hardwired to battery
Stock topfeed fuel rails and FPR
ID1300X2 fuel injectors
Parallel routed fuel lines
Full E85
Koyo Radiator and cap
Perrin overflow tank
Optima Red top battery
SPT oil cap and battery tie down
Cobb V3 Access Port-Pro tuned by XRT
AEM UEGO AFR gauge mounted in AVO dash pod
2006 USDM Spec B full interior swap
2010 LGT rear view mirror
04 STI Shift knob
DDM Tuning 55W HID headlights and fog lights
LGT wagon suspension with rear upper, lower control arms and lateral links
All subframe and rear cradle spacers removed.
2004 Subaru STI Brembo front brake calipers
DBA 4000 T slotted STI front brake rotors.
Stainless steel front and rear brake lines
18X8.5 +44 SSR GTX01 wheels
SSR Aluminum lug nuts
255/40/18 Bridgestone Potenza RE760 tires
Front and rear fenders rolled
Steffen 's Social Media Info:
-
http://www.facebook.com/Steffen Veum
-
http://www.instagram.com/s_veum
« Browse More Enthusiasts